The summer SCT Delivered Kit has sold out, but you still have a chance to get one of these fun collections because I'm giving one away today! The kit is packed full of seasonal papers perfect for warm-weather scrapping, and it includes the first ever SCT alphabet stamp set. Yes, I'm biased, but I really love these stamps and have already used them multiple times. Can you ever really have too many alphabets??
Here's one of the layouts I created with the kit, with the alphabet stamps playing a starring role in the design:


 S U P P L I E S :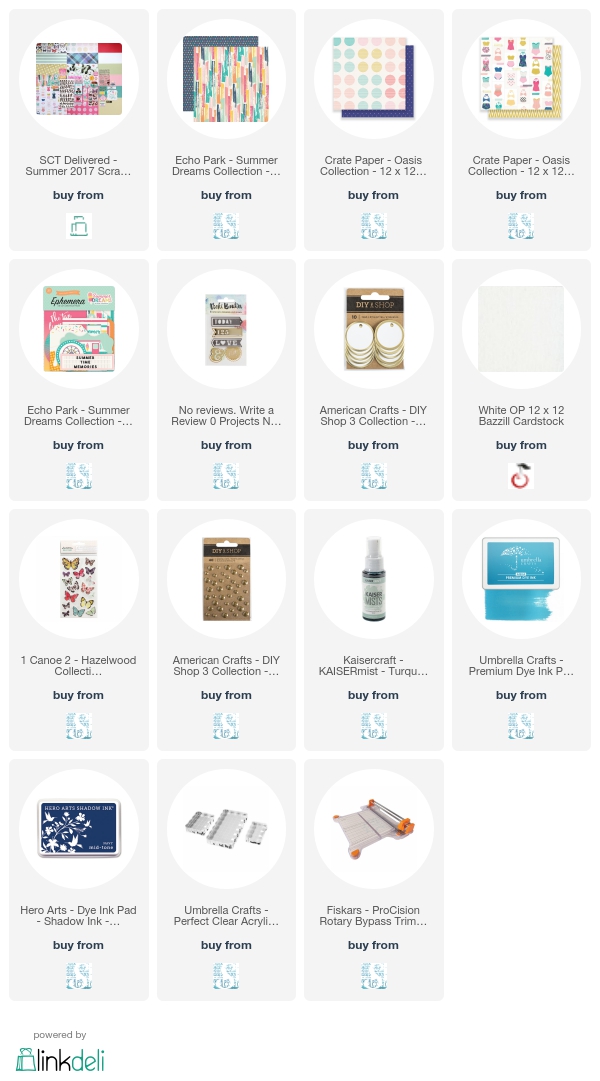 (random apology for the HUGE supply list, but I'm still figuring out LinkDeli since my old service, Inlinkz transferred their product manager over there. It's been fairly easy to add products, but getting it to appear on the blog in a non-obtrusive manner is more challenging!)
While I don't often use paint on a layout, I pulled out the spray ink for this one and used it to create the background. I watered it down a bit before brushing it on and once it was dry, I used the alphabet to stamp letters across the paint. Yes it was a bit tedious, but with some good tunes on, it's kind of relaxing. And after all that repetition, I will never ever misspell the word vacation!
These acrylic pieces were also kit exclusives, and I love the color and texture they add to my embellishment clusters. Most of the tags were in the kit printables as well, so there are lots of fun pieces you can only get at SCT!
The kits sold out very quickly (and just a heads up - the fall kit goes on sale September 1, so mark your calendar and grab one!) but I've got an extra one just waiting to be shipped! If you'd like a chance to win this kit, leave me a comment telling me what your favorite (or most used) font is. I'll pick a winner on Monday and announce it here.
Enjoy the weekend, my friends!