A few months back my scrap room was packed up in boxes in our basement so we could refinish our wood floors, paint everything a fresh new color, and do a little Fixer Upper-style makeover. All that was missing was the hilarious antics of Chip Gaines, but I do a pretty good stand-in job making an ass of myself, like when I asked the contractor if I needed to vacuum the floors before they sanded (the answer is no) and if they could avoid getting any of the floor stain on my white baseboards (again, NO). So there's that.
While the home reno was in full effect I had to complete an assignment for Simple Stories, and I had very little of my usual scrap arsenal available. But I decided it would be a great time to challenge myself to make something interesting with a minimum of tools and products. And if I could figure out a way to use that huge floor sander I suddenly had access to, then all the better!
S U P P L I E S :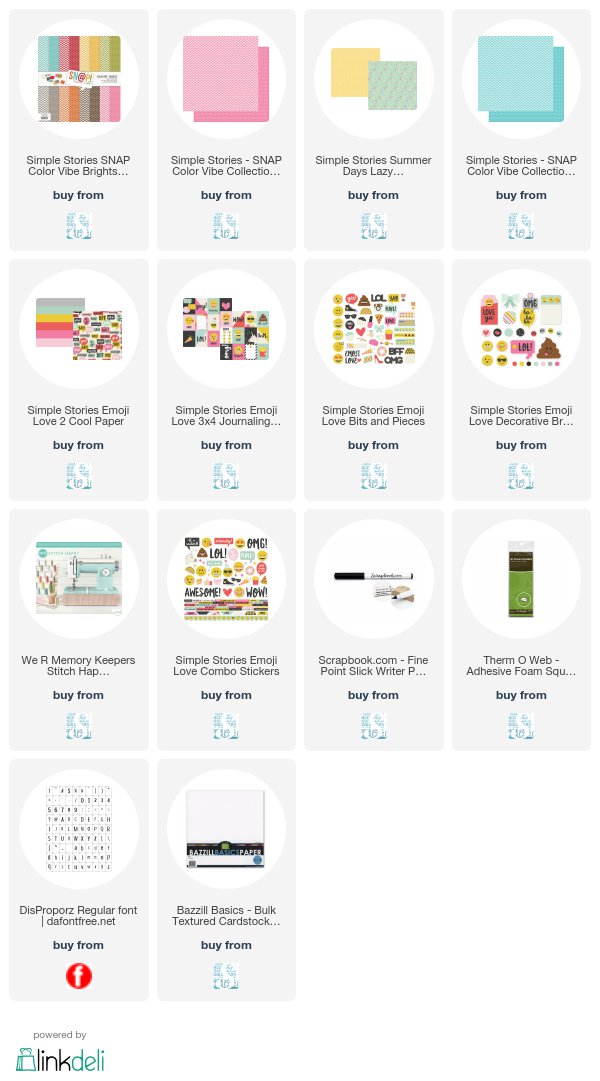 For this simple striped page, I started with a patterned paper from the Simple Stories Emoji Love line:
The colors were perfect for my photos, which included lots of pink and yellow, but I wanted to some additional pattern in the design. Instead of using the paper as is, I cut some 2-inch paper strips (the pink dot, yellow crosshatch, and aqua dot) and layered them over the solid stripes. In between each of the strips, I sewed a zig-zag seam, which is a great way to add texture and a handmade feel to your design. Though the sander would have been more fun to use.
To add a simple page title, I selected a 3x4 journal card and layered die-cut speech bubbles atop it.  These are part of a Simple Stories decorative brad set, but you could also fussy-cut small elements from patterned papers or use die cuts + brads to achieve the same look.
I enjoyed the challenge of creating simply and it was surprisingly easy to do with limited supplies. And while I'm excited to get my scrap products unpacked again (it's a slow process that I'm procrastinating on, but since I can't spend afternoons riding around on the sander anymore, I guess I'll find the time) it's always nice to get back to basics!
Have a great weekend friends!