Yep, I'm a slave to the grid layout and you can find that design framework on countless pages in my albums. And while I love using this simple idea of blocks to build a page, sometimes I don't feel like using a ruler and getting every thing perfectly aligned. (No coincidence that this usually happens late at night when I'm crafting with a glass of wine nearby). And that's when the Slightly Skewed Grid comes into play!
S U P P L I E S :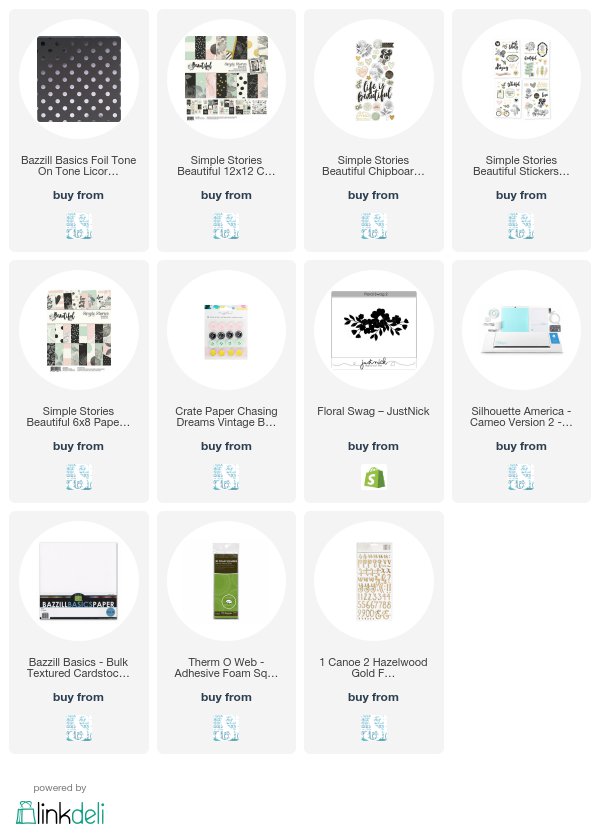 While I'm still using a block structure composed of 16 squares, I've forgone the right angles and evenly spaced squares for a more free-form design. I'm using papers from the Simple Stories Beautiful collection, with softly muted colors of blush, mint and gray. I selected four favorite photos and applied a vintage action to the photos (The Pioneer Woman's actions are fabulous for your Photoshop arsenal) to soften the brightness and color saturation. They are printed at 2.25" square, which includes a white border to help them stand out from the other grid squares.
The patterned papers cut to 2.25" square and embellished with stickers, die-cuts & chipboard, along with some stitched edges and button adornments. I adhered them somewhat haphazardly to lend a whimsical feel. Some elements are popped up with foam adhesive to add dimension and keep the design from looking too flat.
At the corners of the grid, I added a floral accent (from white cardstock on the Silhouette) that adds to the organic, loose feel of the grid. It also helps frame the focal point of the page and set it apart from the black background.
While the grid isn't a typical linear layout, it still has the organized and cohesive look that grids are famous for, with just an added touch of energy and fun. And the bit of wine I might have spilled on it is nicely covered by the wonky blocks.  
Happy Friday friends! (And is it happy hour yet??)