I know all you scrapbookers are excited for this weekend as we celebrate our wonderful hobby! I'm excited to be joining in the fun with Scrapbook.com and wanted to share a project I created for the Live, Laugh, Layout Challenge. It's all about using embellishments creatively, and since these are one of my most favorite products, I was excited about designing a page focused around buttons, brads, ephemera, jewels and more!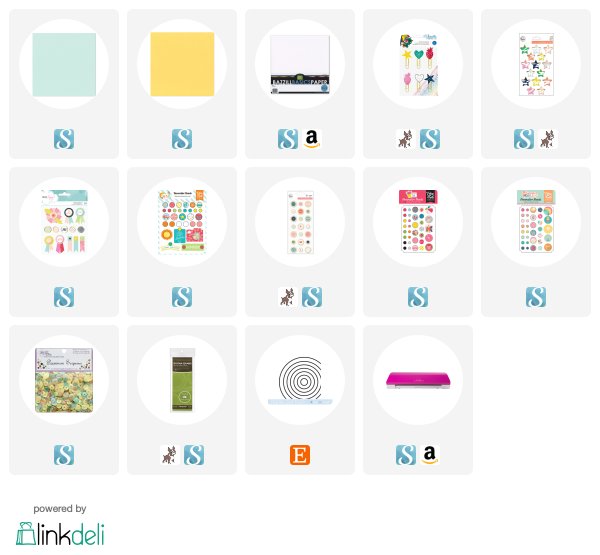 I started with a simple circle cut file (available in my etsy shop) that created the perfect focal point for my photos. (And yes, I might have been subconsciously inspired by my beloved Target logo!)  I then added a variety of brads, chipboard, buttons, ephemera, sequins and jewels to look like they were floating amongst the rings of the circles.
I love the fun energy all these pretty embellishments add to the page - it just makes me happy. It also makes me realize that sometimes too much of a good thing....is a good thing! So are you ready to pull out your stash and create a page? Then let's get going  - here's the scoop!
Create a layout that incorporates a wide variety of embellishments - washi tape, 3-dimensional elements, title stickers, ephemera, buttons, brads! Scrapbook.com will select 10 winners that best incorporate a unique mix of embellishments within the project while also meeting the challenge requirements. All projects and skill levels will be considered. Projects that display a unique mix of embellishments usually demonstrate the ability to add a large quantity of embellishments or focus on using them in surprising ways to tell a story, evoke emotion or showcase a special skill (journaling, photography or artistic arrangement). Upload and link your project featuring a unique use of embellishments for your chance to win!
 Rules:
1. Join the Live, Laugh, Layout Challenge.
2. Create a new, never-before-published layout that showcases a wide variety of embellishments while also meeting the challenge requirements for your chance to win!
3. Upload your entry to the Scrapbook.com Gallery. Be sure to check the box at the bottom of the upload page to add your project to the NSD Live, Laugh, Layout Challenge.
4. Link at least 3 products used in your layout. You are not limited to products you have purchased at Scrapbook.com. You may link embellishments, washi tape, adhesives, paper trimmers, ink, paint, stencils, punches, die cutting machines, glue and cardstock too!
5. There is no limit to the amount of times you can enter this challenge, but you are only eligible to win one prize per challenge.
6. Winners will be announced on the Scrapbook.com Blog no later than May 31, 2018. Ten winners will each receive a surprise prize package valued at a $100.00 from one of our amazing sponsors. No two prizes packages are alike!You must redeem your prize within 60 days from the time the winners are announced or another winner will be chosen.
And be sure to stop by these participating blogs for more inspiration for the Live, Laugh, Layout Challenge. You'll find plenty of unique and creative projects and it's a great way to kick off the NSD celebration!
Happy National Scrapbook Day!