I always think summer will be a time to slow down, relax the schedule and make time for all things I haven't gotten around to during the business of the rest of the year (like, uh, BLOGGING??) And then before I know it, June is half gone and my summer bucket list has gotten longer rather than shorter. And with Hayden heading off to college in California this fall, I'm even more determined to pack.in.all.the.things over the next fleeting months. So after checking Spend 3 Days Straight in PJS and Watch All The DVR Content and Place Largest GrubHub Order Ever off our bucket list, we're rested and ready to tackle all the other activities!
And while scrapping isn't on the list, I do have quite a backlog of layouts ready and waiting to be shared here. So I definitely will be popping on here to highlight some of those. Not the least of which are my layouts with the newest SCT Delivered Kit, Summertime Dreams! I always love the vibrant, happy colors of summer and this collection captures that vibe perfectly. Today I'm sharing my double-page layout, but check back on Saturday to see the single!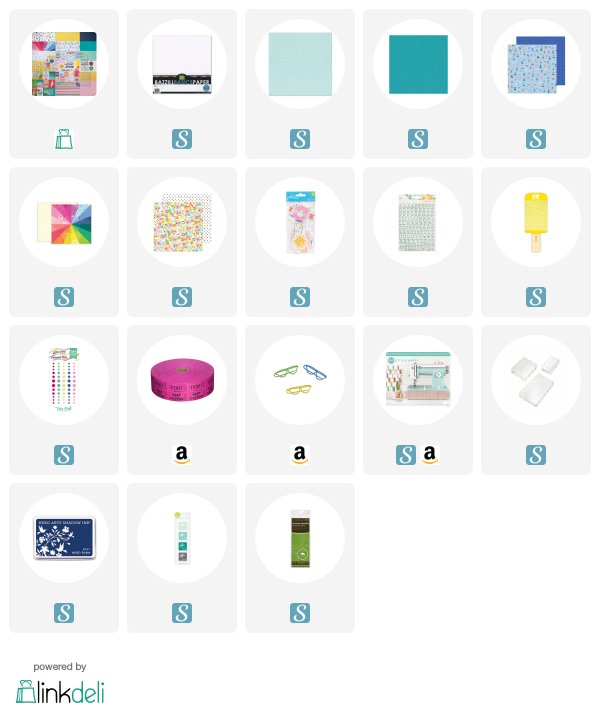 I had a hard time deciding what papers from the kit to use first, so I opted to incorporate several as a colorful border on the left hand side of the page. I mixed both pattern paper and cardstock strips added some stamped images and stitching for more dimension and detail.
I also added stitched grid lines to serve as a base for my embellishment clusters. Atop one, I created my title block with a tag, ephemera, stamped images, stickers and a fun shaped paper clip!
To draw the eye to the right side of the spread, I made another stitched grid in the upper corner and added more bits of ephemera and tags.
Double-pages are quickly becoming my favorites because I can add in so many more fun elements (and these kits always include lots of them!) If you'd like to grab one of the Summertime Dreams kit, they are available on the SCT website now. And if you use the code LISA10 and check out, you can get 10% off your purchase. (Coupon code is good for the spring and summer scrapbook kits and card kits!)
And now I'm off to enjoy the summer!