I'm definitely not known as a card maker, but after recently having an awkward moment standing in the middle of the Target greeting card aisle and loudly proclaiming that STORE BOUGHT CARDS ARE A TOTAL RIP OFF (much to the embarrassment of my horrified daughter) I've decided that making my own cards is pretty darn awesome. Also, I've undoubtedly firmly validated my membership in the Grouchy & Cheap Old Ladies Club.
But seriously, since working with the SCT Delivered Kits (and making cards regularly with them) I've loved creating a small stash of handmade cards that are ready for special occasions. Here's a quick summer card I made using scraps from the Summertime Dreams kit!
S U P P L I E S :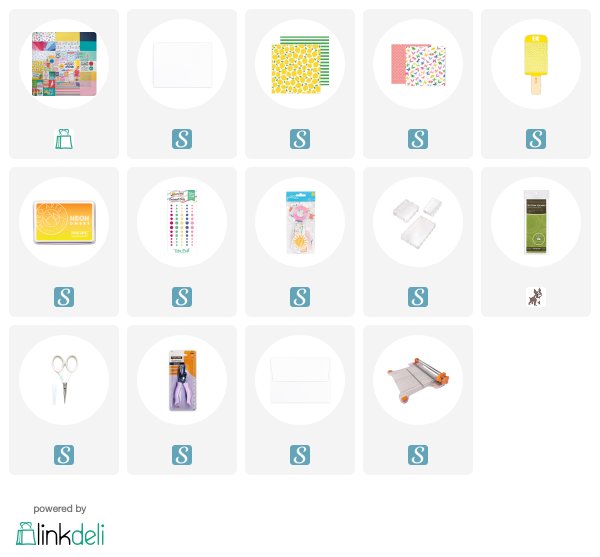 I loved this lemonade paper from Pink Paislee, but couldn't quite get it to work on a scrapbook page (and my kids refused to participate in staged photos of them working a lemonade stand just so I could make a layout - go figure). But a small square of it was perfect for a bright, happy card. I used the striped B-side of the same paper for the upper portion of card.
The tag in the center of the card was part of the kit printables (love these and they can be reprinted over & over for multiple uses!) that I stamped the word SUNSHINE repeatedly across. As a lover of all things typography, I'm always trying to work extra letters into my design. This little phrase is subtle but reinforces the sunny theme of the card and adds another layer of detail.
Beause the original tag didn't quite fit the lemonade theme, I covered up the watermelon graphic with a die-cut lemon. I also fussy-cut a butterfly from patterned paper to mount near the lemons. A sprinkle of enamel dots was the final embellishment!
So that is my quick card for today! And all that money I didn't spend on Hallmark I'm putting towards a nice cold lemonade (with vodka - IT'S FRIDAY!)