Sometimes starting a double-page layout can be a bit intimidating. I find the 12x24 canvas hard to visually organize, especially if you're used to designing 12x12 pages. One trick I love to implement when starting a two-pager is to immediately shrink the "live area" of the page to a smaller size. Confining your page elements to a specific space also leaves plenty of room for the all-hallowed white space - which is never, ever a bad thing. Today I'm sharing a layout using this technique!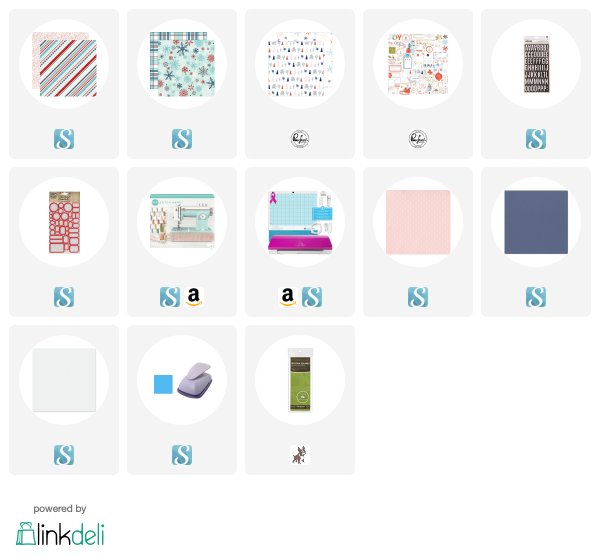 After selecting my background (a snowflake pattern + pink cardstock), I opted to focus my design on a 17.5x8.75 area in the center of the spread. While this might seem like a random size, it was actually based on my photos - three 4" square and one 4x6 (along with three smaller 2" photos I added as well). I arranged the photos in four columns, each featuring a grid of smaller elements above or below the photo. The last column features my largest photo and a die-cut title to fill the space beneath it.

To separate my photo columns from the background (and visually define my design area) I matted everything on cardstock and added a stitched border. The small 2" squares were a great place to add fun and festive embellishments that went along with my winter theme.
To keep the page from being all straight lines and right angles (which, let's face it - can be a bit boring) I softened the corners of my photo block by adding diecut snowflakes. Not only do they help lead the eye from the upper left corner of the page all the way through to the lower right corner, they also add a sense of energy and motion to the page that the squares alone couldn't accomplish. 

By repeating the shape of squares throughout the page, I was able to incorporate a lot of elements into a relatively simple design. The grid framework keeps the page organized, but allows lots of little "canvases" to showcase your story. And can I get an AMEN for all that beautiful white space?? 
Happy Scrapping!