A little more than two weeks until Christmas - is anyone else in denial?? I have about ten million other things I should be doing to prepare, yet here I sit composing a blog post. Because what fun are the holidays if you aren't running around like a crazed lunatic the last few days? I hate to deny myself the pleasure of that insanity.
So instead of ordering Christmas cards, finishing the tree decorations or organizing teacher gifts, I'm posting this festive layout for y'all! It features one of my favorite shapes - the star - grouped together to make a dimensional wreath frame for my photos and journaling.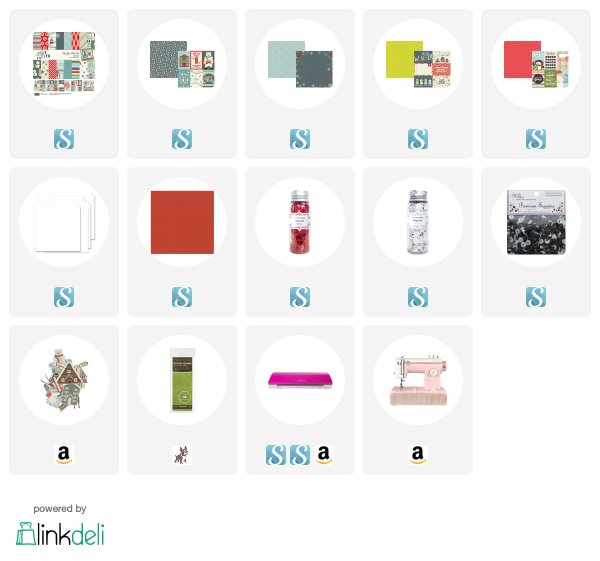 To start, I simply sketched a circle centered on the cardstock and then machine stitched several times around the circle with gray thread. It doesn't need to be perfect! (Coincidentally, this is also my mantra when it comes to Christmas decorations and holiday baking!)
Then I die-cut lots of stars (ranging from 1.5" to 3") from several papers. I used 17 stars total, but you can fit less or more, depending on the size of the circle and the size of the stars. Once the stars were cut, I scored each one from point to valley and gently folded along the score lines to make them three-dimensional.
Large glue dots (the 3D kind) are great for securing the stars to the page and also help keep the centers from getting smashed. I arranged mine around the stitched circle, filling in any gaps with small snowflake stickers and die cuts as well as sequins for a bit of sparkle.

In the center of wreath, I arranged my two photos, journaling and die-cut sentiment to serve as the layout title. (Full disclosure: I actually printed the journaling on the white cardstock after penciling in the circle and determining where my photos would go, prior to creating the star wreath. I use Adobe Illustrator to layout my elements and help me determine where to type journaling, but I believe you can do something similar in Word.)
And now I'm off to actually cross something off my holiday to-do list....does drinking eggnog and watching a Hallmark Christmas movie count??