We got our first official snow yesterday - a big dumping of big, fluffy flakes that coated everything in a soft blanket of white. It was beautiful, but didn't really stick to anything except the grass and trees, and most of it melted within a few hours. It was long enough to provide a cozy view from my office window (and stomp around in my rain boots for a bit!) but didn't require shoveling or make for yucky road conditions. In other words, my kind of snow.  And since the rest of the week is forecasted to be back in the mid-60s, I think fall might stick around a bit longer. Can I get a big woohoo for that?
To commemorate the snow I thought I'd post a winter themed two-pager today. It reminds me I still haven't bought our ski passes or checked to see what gear the kids have outgrown. Because that would mean I'm actually on top of things around here. Here's hoping I have a few more weeks to keep skipping those tasks on my to-do list!
S U P P L I E S :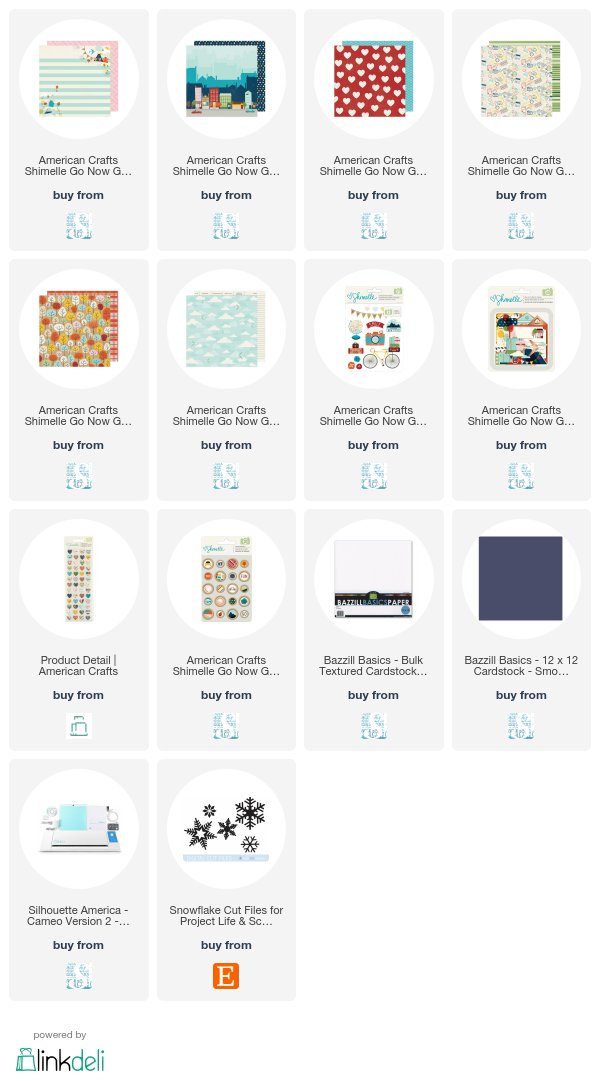 This layout features four 3x3 photos and one 4x6 with a big block of journaling in the middle. I had lots of fun adding many patterns into the mix (all from the older Shimelle Go Now Go line, but one of my favorite collections ever!) I've got plaid, polka dots, stripes, wavy lines and little cloud pattern thrown in too...but I think they all work!
The bold white title and Silhouette-cut snowflakes help provide a nice resting place for the eyes amidst all that pattern. Plus they reinforce to the winter page theme. (I've got similar snowflake cut files available in my etsy shop!)
Behind my papers, I tucked in lots of the die cut ephemera pieces, creating three clusters that form a visual triangle on the page. There's also a few stickers and puff hearts thrown in for good measure.
These wintery scenes are making me excited to get back on the slopes! (But not for a month or so...do you hear me Mother Nature??!)